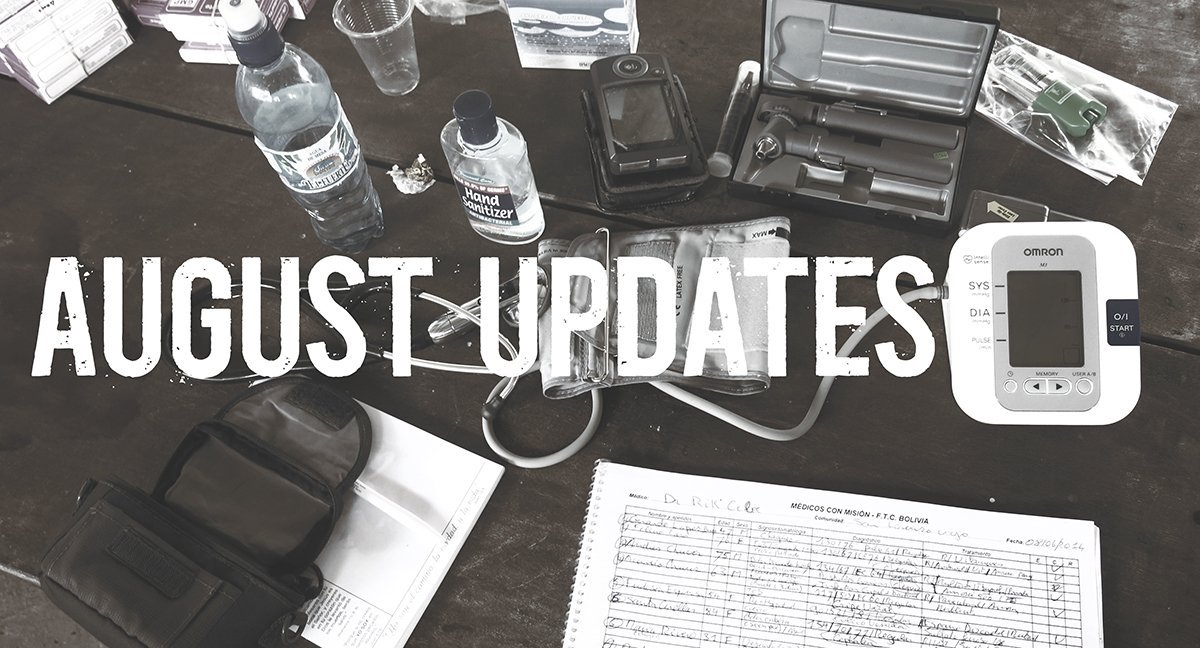 Dear friends,

Here is an update about the mission work that I recently accomplished in Bolivia. As always, there was plenty of work to do…
Great news: we finally were able to finish the house of Dr. Ino & his family on our mission base in southern Bolivia. This house will also serve as a guest house. In the end, it was not easy to provide electricity, water and a good drainage system in this remote place in the mountains, about 5.600 feet above sea level.
You may remember that we inaugurated our medical center on this mission base about 1.5 years ago. Through Dr. Ino's presence on the base, all patients will be assured to receive permanent medical assistance in the event that emergency cases show up.
We've worked since 1996 (18 years!) with Dr. Ino. He is the current Director of the Bolivian Medical Mission. He and his wife have three children: Paola, Eric and Sarah. Paola is now doing her third year in Pharmacology on a local University and Eric just started his 1st year in Medicine.
This fortunately also brings an end of a 10-year long lease of a large rented house for family and volunteers of our mission. The house was big because of all the volunteers who needed to stay there (including myself), and to store medical equipment and medicines for our ongoing outreaches.
The last obstacle was a serious disease of Dr. Ino… When we came back from a medical expedition in the Amazon, he contracted Dengue. Dengue is a tropical infectious disease, which is caused by the dengue virus. Symptoms include high fever, headache, muscle aches, joint pains and a characteristic skin rash that is similar to measles. Sometimes the disease develops into a life-threatening internal bleeding due to depleted blood platelets. It can also provoke leakage of blood plasma with a dangerous low blood pressure (dengue shock syndrome). The worst is that one can literally internally bleed to death. But – thank God – Dr. Ino is recuperating well at this moment. The disease is transmitted by several species of mosquitoes of the genus Aedes, principally by A. aegypt (dengue mosquito).
The disease is found mainly in South America and Africa, but also in India and Pakistan. We had more than 30,000 cases of dengue in the Bolivian Amazon during the floods in 2008. There were also tens of thousands of Dengue cases during the floods in northern Pakistan, situated at the foot of the western slopes of the Himalayas (2010 – 2011). Scientists still haven't developed a vaccine against the virus.
Thank God, I was spared from this disease but I did come back from South America with acute abdominal problems. I and the doctors who checked me feared a relapse (15% probability) of my illness last year and I was immediately sent to the Emergency Department when I arrived in Florida. But again, thank God that the Ultrasound, blood tests, etc. didn't show a relapse but only symptoms of acute viral Gastro- Enteritis.
Back to Bolivia.. We conducted medical expeditions in the southeastern part of the country, close to the border with Brazil (the Amazon basin). Our presence was a great blessing for many, as there is normally no medical or pastoral help found in these regions. We also went to our base in Santa Ana De Yacuma in the northeast of Bolivia, in the Amazon. As you might remember, we have been experiencing in Santa-Ana de Yacuma all kind of threats for extortion by families related to the local Drug Mafia. It is THE reason why we are now more active at the southeastern border with Brazil and not that much anymore in the northeastern parts (Santa Anna). By this, we stay at a safe distance, as we are talking about hundreds of miles…
Our team was able to do a lot of clinical work. Dr. Betsabe continues to work from our base in the Andes and goes out with a foreign team to reach the mountainous regions (13,000 feet high) around Ocuri and Ravelo in the State of Potosi. Dr. Oscar still works at the clinic we set up in Paichu (9,000 feet). We thank God that he is now paid by the Bolivian state.
And internist, Dr. Hugo, with whom we've worked since he was still a student (15 years ago), works at our Medical Center in southern Bolivia together with Dr. Esther and Dr. Ino.
Also Pastor Romulo feels very blessed to finally have his church rebuilt. His old church, made with "mud bricks," didn't survive a major landslide in the Cordillera de Madinga (11,000 feet high).
In Haiti, we keep being challenged… Our two clinics in Manceaux and Morency run on a minimum of medication and we are barely able to provide the necessary food for all the orphans. Despite promotion on many levels and starting a project with Crown Funding, we didn't receive the money that we needed to start building a shelter for the Haitian orphans.
This is of course quite discouraging and frustrating… We want to provide shelter and schooling to give hope in a region where there is no hope at all. Manceaux and Morency are really one of the worst and the poorest regions I ever have witnessed during 24 years of outreaches.
In Pakistan, it is not much better… There are simply too many individual cases requiring urgent medical attention or surgery. At the same time, drought in the Sindh region caused countless deaths especially among infants and children (dehydration). On top of this poor and disaster stricken area, one needs to face also the constant dangers and threats of extremist Muslim groups as well as the struggle between the numerous small Christian ministries to get some money to help others.
Now, I will be traveling and speaking in a church in California. I met the Pastor of this church together with an elder while on a mission in Haiti some 2 years ago. Afterwards, I am invited by WME (World Missionary Evangelization) to talk about Medical Missions in the 21st century. And from there, I will go to my home country, Belgium, and also to the Netherlands, to witness in churches and to attend an important conference.
If you, your church or friends are ever interested to see a beautiful slide show and hear my witness, please do not hesitate to contact me through RikCelie@gmail.com or DrRik@DoctorsOnMission.org. We may find an opportunity to come together. I am looking for churches or groups who are really interested to commit to help further our mission.
Thank you and God's blessings to you!
Rik and all the DM teams.