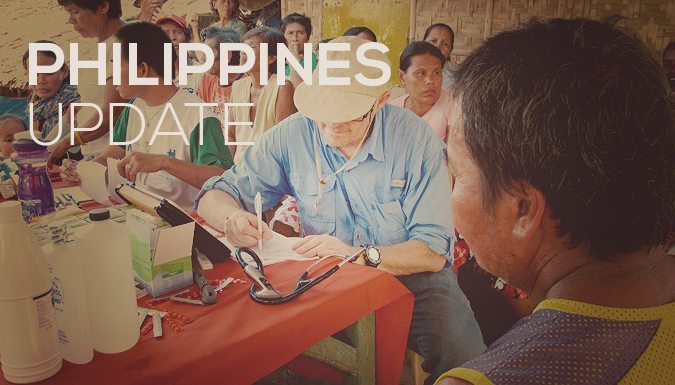 Dear friends,
The work in Bolivia:
We had just completed a medical expedition to the Bolivian Amazon. Then we went to the Southern Andes where Dr. Oscar is still operating in the clinic we started in Paichu. We visited and brought help to all the surrounding villages too.
Pastoral assistance was given during the evening service. We helped to build this church there more than 10 years ago. The whole region came alive and has even received the attention of the Bolivian Government who is now also helping there as they are paying for some of our expenses. In the meantime, on the other side of the Andes about 30 hours away, Pastor Romulo (my guide during the first years) was able to rebuild his church that was taken down in 2013 also due to a (minor) earthquake.
On November 8th, I found some housing in the maid's quarters in Dr. Ino's home … Nothing for me! But the main thing was that I had Internet and could follow up the Haitian and Pakistani teams after the Amazon and Andes outreach.
Sometimes my Internet signal or sending of emails went very slowly, but generally the Internet worked. Dr. Ino and I were preparing a final expedition to the Guaranie region in southern Bolivia near the Paraguayan border.
Planning to go to the Philippines:
I suddenly received there in that little room all kinds of messages regarding the catastrophe in the Philippines as Typhoon Haiyan was on its way. You know all about this because it was "breaking news."
I myself followed the Belgian B-Fast team from afar to see how they would react. At that time, I had not the slightest idea that I would be involved in this at all. I had worked together with B-Fast during the earthquake in Haiti (Jan. 2010) and brought them to the big orphanage of my friend, Johan Smoorenburg, who is a Dutch missionary and leads the mission "Hearts for Haiti" in Port-Au-Prince. B-fast is the official Belgium emergency team and they left more than 25,000 Euro in medication for "Hearts of Haiti."
I was not planning to go at all! I always collect as much information as possible, seek God in everything and try to take the right decision at the right time. Sometimes, they must be made quickly, but I am used to this. Then, I got a sudden contact with WME, a ministry I have joined years ago. They have hundreds of missionaries, but even there I must be more a "rare specimen" as a full-time MD missionary.
WME also has missionaries in Southeast Asia and one of them is doing a great work on Bantayan Island and surrounding islands. The eye of the Typhoon came over Bantanyan after having hit Tacloban on Leyte Island. Missionary Clint Taylor was in need. There was no medical care on that island whatsoever!
Along with CNN and other media, almost all help went to Tacloban on Leyte Island where there was obviously great need and destruction. But besides Leyte Island, there are 7,106 other islands on the Philippines! The top one thousand islands have a combined population of a 100 million! The question came quick: could I possibly do something? I talked with Dr. Ino, our local Bolivian Director, and he would continue the work himself further and was even a great help to help me in filling a huge old backpack full of bandages, medicines and medical tools. I did some quick check-ups myself to see if I was fit enough due to a disease I suffered last summer while in Europe. I only had a high heart rate remaining from that condition, but it was regular.
WME donated the funds for travelling expenses and some medicines and 48 hours later (airport waits included), I was standing on the airport of Cebu Island…with a 14 hour jet lag.
The winds had achieved speeds of 314 km/h and therefore this Typhoon will go in history as the one with the highest wind speeds ever recorded. You can't believe what such a storm can do even if you saw it all on TV. You need to stand there, be surrounded by people who are panicking and smell the bodies who are laying dead for days in temperatures above 100 degrees Fahrenheit.
In comparison, when I was working during Haitian earthquake and Hurricane Sandy (end of 2012) in Southern Haiti was great!  70% to 80% of what's was in the eye of the hurricane was completely destroyed. Personally, I promised to NOT set up this time national teams to follow up in the Philippines, given the high costs that this entails and the great needs we have as a mission with the work we already do.
[button href="http://doctorsonmission.org/choose-your-cause/?amount=0″ target="_self" size="btn-small" class="btn-warning" type="button"]Donate Online[/button]
Arriving in the Philippines:
So, after this 48-hour travel and 14-hour jetlag, I got a few hours of rest and then we went first to purchase thousands of more medicines in a local Pharmacy with just $2,000 and went to the North of Cebu island that was already seriously damaged.
There we got on one of these boats where – hearing the words of Clint – yearly hundreds of Philippines lose their life because of overloaded and poorly equipped boats in the open ocean. We then arrived at Bantanyan Island. It was literally in the eye of this huge typhoon.
The situation on Bantanyan Island and surrounding minor islands was terrible! There was great destruction of all those wooden houses. Even concrete and stone houses were blown away. It really seemed like the earthquake in Haiti, yet less severe than the earthquake in Haiti. After all, there were "only" 5,500 deaths (approximately) in the Philippines while in Haiti they still don't know whether there were 243,000 or 255,000 deaths. A difference of 12,000 and nobody knows the exact number! Imagine, 85 times the number of deaths in the Twin Towers.
The great, continuing need in the Philippines:
But the real medical concerns are the tens of thousands who remain severely injured and the tens of thousands who have no house anymore and remain in refugee camps, etc. According to my calculations, in disasters like this there are always between 1.5 to 2 times more seriously wounded compared to the amount of deaths.
The big problem is epidemic outbreaks long after the emergency teams have left and "breaking news" has become "old news". You then have Cholera, diarrheas, pneumonias and all kind of tropical diseases that are taking over due to unsanitary conditions in the camps, due to malnutrition or because they are just not reached…and as usual…local government doesn't react either… or they react very slowly. I got so many emails afterwards begging for more help, we helped some but could not hold on… I am even scared to ask how they are doing because I am certain, that they will start all over to beg for help.
Especially babies, but children and younger (often pregnant) women are a big challenge. And we haven't even started mentioning all of the psychological trauma that such disasters provoke. Just looking in the "empty" eyes of the children makes you realize that such problems can't be resolved in 10 days…
Anyway, we did what we could, helped many people and brought a smile back to many children and give them new hope by proclaiming the Gospel. We even went to the local prison where many live in terrible conditions, but we were well received and Clint went inside to give the message.
We went from one village to another and saw around 100 patients a day! People were given hope and the Good News. I felt like I was supernaturally empowered and went on and on, even when I was alone with all medical issues. It must be the adrenaline that keeps you going in such a situations…
And at least we got a bed and two hours electricity (via generator) late at night to contact the outside world, which was not the case in the early days of the earthquake in Haiti or even now in interior of Haiti.
What struck me most was that I didn't meet even one other MD on the whole island (population over 136,000)–not a foreigner nor a Philippine Doctor! Only one nurse, who was the daughter of a local pastor, was able to help me, but only at one location. So I needed to set up my own team again and again and tried to pick out the smartest ones who understood English and could read and write well–mostly the younger generation. I taught them how to take blood pressure, notice names and symptoms and pass them on to me. Other trustful people were allowed to count and give the needed medicines. And when I was puzzled myself, I felt lucky to have my iPad where all of my medical books are on.
[button href="http://doctorsonmission.org/choose-your-cause/?amount=0″ target="_self" size="btn-small" type="button"]Donate Online[/button]
Running out of medicine:
The entire preparation in a certain village took only 20-30 minutes and then I got my team on fire for the work, but then suddenly, I ran out of all of my medicine!
Then I found a church where people told me that some boxes had arrived and that they thought that these were probably medicines. I couldn't believe it at first. Who sends boxes of medicine without being certain that there is a Doctor? But it was true! These boxes were just sitting there… and there were many…They were sent by Compassion International.
I looked at the boxes and just said, "Open these boxes and let's use everything that's in there!" And so we could continue to work day after day until it became dark.
The worst situation with disaster relief–as I see it–is that all emergency teams come and leave within a few weeks. There's a saying, "CNN leaves and everybody leaves" … and help drops down to near zero.
Now, as of today, there are daily deaths due to tropical diseases (such as Dengue Fever) and common airborne infections and diarrheas because of the unsanitary conditions in these camps.
When I finally returned home for the Holidays, I wasn't able to do anything… During Christmas time and New Year I spent more time in bed than ever but…. still with the Laptop because especially N. Pakistan kept my attention as the Taliban is waging a war in the region we work.
War on Christians in Pakistan:
The war has been declared against the Christians and all minority groups and even against humanitarian aid organizations like the World Health Organization. The Pakistani army is not able to control the radicals and what they do with people are beyond words. We have Christian brothers and sisters living in extreme poverty and persecution. We have been sending them money regularly, but the need is far greater.
Back to Haiti:
Next week–after having attended some Mission Conferences–I will be in the interior of Haiti where we need urgent help in purchasing medicine for our clinics.
Poverty is very serious in inland Haiti where kids die from malnutrition, diseases, cholera, etc. due to a low immune system.
The worst thing is the suffering of the orphans who come to me by the dozens: I am helping 100 orphans and more than 200 are waiting. As funds come in, we'll help all that we can. I can only give clothes and a cup of rice a day but to be honest, I don't know what more I can do to help them having a normal home and yes, they are our little brothers and sisters in Christ.
May God bless you all!
Rik
[button href="http://doctorsonmission.org/choose-your-cause/?amount=0″ target="_self" size="btn-small" type="button"]Donate Online[/button]